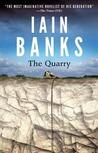 The Quarry by Iain Banks
My rating: 4 of 5 stars
With Iain Banks being my favorite writer, this being his last book, and the circumstances (Banks finding out he was dying of cancer after he wrote the book). "The Quarry" holds a little more meaning for me than most books I have read. On the Surface "The Quarry" is about a man dying of Cancer and one last weekend spent with his friends. For me the story is about more than dealing with dying it's also about the living and life going on. All the character in "The Quarry" are complex and real. Most are not likable and all are flawed. Guy (the one dying) sort of blackmails his friends to visit him by mentioning an old video that would be embarrassing to all, he mentions they might want to look for it before he dies. The story is mainly told through Guy's adult son/caregiver who is slightly autistic or has asperger's syndrome. A point of view that allows you to see the situation from both the inside and the outside. The story from the inside is about his dad dying and what it's like to deal with it up close and personal, the outside is watching how his dad's friends (several are "A" holes) deal with it and with each other. I liked "The Quarry" a lot and really enjoy the depth of the characters and their flaws.